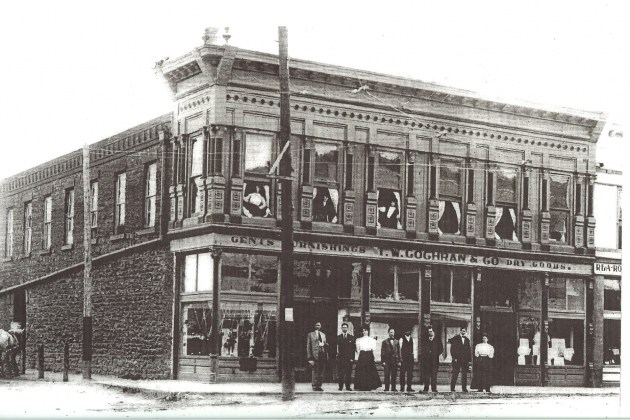 Founded in 1869 by Colonel H.M. Cook, a Mississippi veteran of the Civil War, the store originally was called Cook Mercantile Company. First located in Centerville, Texas the store moved to Buffalo, Texas to operate closer to the railroad. In 1884 it moved to its final location in Belton. As sons/son-in-laws joined and left the business over the years, the name changed five times from 1869 until 1917 when it became Cochran, Blair & Potts Department Store. In 1970 Roy and Jean Potts purchased the entire ownership. Their son, Rob Potts Sr., took over operation and was later joined by the seventh generation, Robert Potts Jr., his wife Ashley Potts and Michael Potts.
Cochran, Blair & Potts is of enormous historical interest and value because its title of the oldest department store in Texas. Furthermore, it has been owned and operated by the same family for seven generations. A historical marker flanks the side of the building giving credit to all who have kept Cochran, Blair & Potts thriving for over 14 decades.
1869-1874

Cook Mercantile & Company is founded in Centerville, Texas.

1874

Company moves to Buffalo, Texas.

1884

Company moves to present day location in Belton, Texas.

1886-1904

Company is renamed to Cook, Cochran & Company.

1904-1917

Company is renamed to T.W. Cochran & Company.

1917-1928

Company is renamed Cochran, Blair & Potts.

1929-Present

Company becomes Cochran, Blair & Potts, Inc.